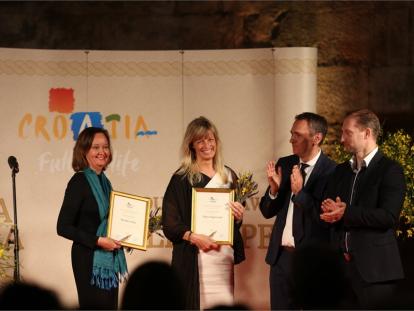 Golden pen Sweden - Elisabet Axås i Ylwa Yngvesson
WRITTEN MATERIAL
Elisabet Axås, journalist and Ylwa Yngvesson, photographer,  in the magazine "Allt om Resor", in which Croatia is one of the topis of that number, Elisabet brings us a thorough reportage on 16 pages, in which she presents her 9 favourite places on the Croatian coast (Dubrovnik, Split, Makarska Riviera, Istria- Pula, Poreč, Rovinj, Opatija, and the island of Hvar and Brač).  With her elegant style she presents to the readers the rich offer, cultural attractions and beautiful beaches, picturesque Istrian towns, which she often compares with Tuscany, emphasizes the romantic atmosphere of the Dubrovnik walls that are best to be experiences during sunset with a glass of a quality Croatian wine. The reportage continues with a separate article about Istria, where the journalist, accompanied by the photographer Ylwe Yngvesson, enthusiastically presents the diversity of the offer, highlighting the special features of Istrian cuisine and wine offer. She takes us for truffle hunting, homemade cheese tasting, and to a visit to Istrian vineyards following the "Wine Roads". In order to show that there is more than only sun, sea, and good food, Elisabet headed to the interior of Istria and visited Hum, the smallest town in the world, which narrow stone streets and the view from the top will leave you breathless, and Motovun, a town with completely preserved town walls, where every year the Film Festival takes place, as well as the Wine and Truffles Festivals.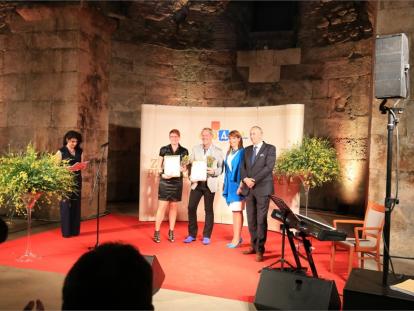 Golden pen Sweden - Helena Bergström i Peter Bergström
BLOG MATERIAL

Helena Bergström and Peter Bergström,  married couple who are true nature and travel lovers. They write about their experiences from different destinations on one of the biggest and most popular blogs in Sweden, the Freedom Travel blog. They have travelled almost half of the world and all Europe, but what makes them stand out is the fact that did that with their camper.  On their journey they visited Croatia where they have spend two full months, and they couldn't get enough of its beauties and the rich offer. The Bergströms visited Croatia even before, together with Peter's youngest son, and on that occasion they wrote about the beauties of Istria and well equipped campsites, but this time they decided to visit all Croatia for which they have only words of praise. They entered Croatia from its southern side, and first visited Dubrovnik, followed by the Makarska Riviera, Omiš, Split, and Trogir, and the islands of Hvar and Brač, as well as the Krka and Plitvice Lakes national parks. They concluded their trip in Istria where they were happy to recall old memories. They spent much time on the island of Brač, and they mention more than once how Croatia has one of the most beautiful coastline, and the cleanest sea in Europe. They tickled the imagination of the readers with many photos of the crystal clear sea, hidden coves, and spectacular landscapes.