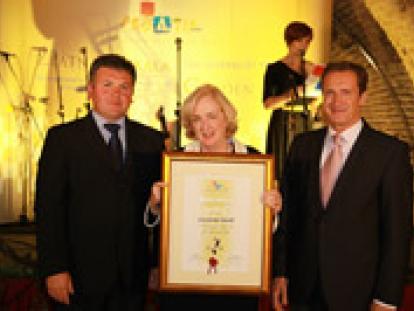 Written material
Mrs. Lucy Gordan Rastelli has been awarded for her report "Egypt at Zagreb" published in the archeological magazine KMT, which is published in the USA and Canada in 50 thousand copies. The 13 page article with 14 photographs talks about the specific exhibits in Croatian museums, which are of interest to guests of high paying power. It is the first time that Croatia has been mentioned in the US media in this way. Mrs. Gordan Rastelli`s reports have been published through the years seven times in specialized culture and gastronomy magazines, as well as the internet pages of the famous magazine Epicurean Traveller in America and Italy. Apart from this, the reporter does radio reports and writes for the magazines Travel & Leisure, Cond'e Nast Traveller, Smithsonian, Inside Vatican.
TV report 
– Mrs. Tina Hiti received the prize on behalf of Mr. Rick Steves
Mr. Rick Steves has been awarded for his 30 minute report about the beauties of Croatia shown under the name "Croatia Adriatic Delights". The report was filmed in July 2009, when the journalist, writer, editor and producer Rick Steves, who is also the owner of one of the most popular tourism programs "Europe Through the Back Door", travelled most of Croatia with his crew – from Istria to Dubrovnik, including the sites in the inland. During 2010, the report was shown almost 130 times on cable, Travel Channel and all the PBS stations across America, which is followed by a millions of viewers. Rick Steves reports, who has already made three films about Croatia, are among the most famous in the promotion od European destinations in the USA and Canada.