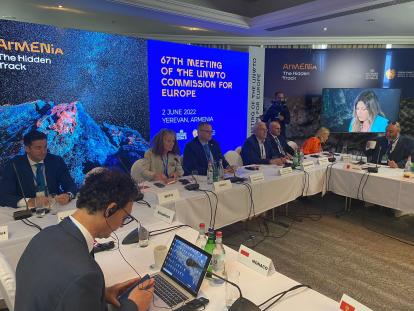 The World Tourism Organization (UNWTO) is organizing the 67th meeting of the UNWTO Regional Commission for Europe, which is held in the Armenian city of Yerevan from June 1st to 3rd. Along with UNWTO Secretary-General Zurab Pololikashvili and representatives of tourist member countries, the meeting is also attended by Kristjan Staničić, director of the Croatian National Tourist Board. CNTB was selected by the Committee of Associate Members of the UNWTO as the main and only institution of representatives for the Committee's meeting in Yerevan. On that occasion, Director Staničić presented the activities and work of the Committee of Associate Members so far, and also referred to the main challenges, needs and opportunities in the international tourism sector.
Thus, Director Staničić spoke on behalf of the Committee of Associate Members of the UNWTO about the reform of the legal framework of that committee, which was carried out with the constant cooperation and coordination of associate members. The new reform will enable even better working capacities of the UNWTO, i.e. it will strengthen public-private partnerships and provide a more modern framework of action that is adapted to current and new market trends. "The invitation to present the most important news and views in front of all associated members is a great recognition of the Croatian National Tourist Board as an institution in a global context, but also a confirmation of the good direction in which we are going in international relations. Also, all associate members express their readiness to continue working and contribute to the quality of membership expansion, and we emphasize the importance of cooperation and public-private partnership that can strongly contribute to the further development of European tourism", said Director Staničić.
At the 67th UNWTO meeting, Secretary-General Zurab Pololikashvili presented a report outlining strategic goals and priorities, current global tourism trends, as well as key activities of the World Tourism Organization in 2022, emphasizing Yerevan's hospitality as host of this year's meeting and the development of Armenia in the last decade as a great example to other countries.
Let us add that the entire program will include a discussion on the recovery policy of the European tourism sector with the participation of ministers and other senior officials and representatives of key stakeholders in the private tourism sector, while a special conference on tourism and rural development will be held tomorrow on the theme "How can local experience build the image and value of a particular destination".
We remind you that in December last year, for the first time in history, the Croatian National Tourist Board was elected as a member of the Committee of Associate Members of the UNWTO for the period from 2022 to 2025. It is a Committee of a total of 23 associate members and acts as an advisory body to the Secretary-General of the UNWTO.