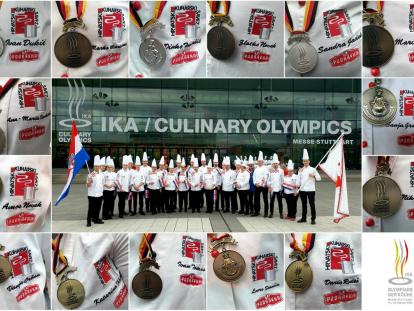 The Croatian culinary team participated at the Culinary Olympics in Sttutgart, the largest and most prestigious world culinary competition, which was attended by more than thirty Croatian chefs and pastry chefs in different competitive categories. This year's Culinary Olympics was held in Stuttgart for the first time, from 14 to 19 February, within the Intergastra fair, and it is also the largest and the most successful Olympics since its first edition back in 1900.
Croatian representatives shone among the many competitors from more than seventy countries around the world, and proudly returned home with two team and six individual bronze medals, and four individual silver medals.
The national team participated in two most prestigious categories of the competition: "Restaurant of the Nations," where they won a bronze medal by preparing a 3-course festive menu in 6 hours for 110 people, and "Chefs Table", where they prepared a 7-course meal for 12 people in 5 hours and won a diploma. 
Ivan Đukić won the silver medal in the individual category "Culinary Arts - Classical Thai Carving", while in the same category Dražen Šafar won a diploma. Ivan Đukić also won the bronze medal in the category "Culinary Arts - Carving Live".
The current state champion in confectionery, Sandra Jadek, was excellent in the individual confectionery category and brought home a silver medal. The Varaždin County regional team presented their knowledge and skills in a cold table set consisting of finger food, cold plates, three entrees, a 5-course festive menu, four different desserts, and petit fours, and won a bronze medal.
Dinko Tomašić, the young hope of Croatian cuisine, won the silver medal in the individual culinary category. In the same category, Lovro Stančin, the youngest Croatian representative, Antonio Bukvić and Tomislav Sabolić won the bronze medal. Antonio and Tomislav won the bronze medal also in Culinary Arts, and in this category, Erich Glavica won the silver medal. The "Chef.hr" team participated in the catering category, and received a diploma for their performance.
More than 2,500 chefs and pastry chefs from more than 70 countries participated at the Olympics, and their work was followed live by more than 100 thousand visitors who had the opportunity to visit not only the culinary competitions, but also a connected gastronomic fair which was held in parallel in ten pavilions. The world-renowned chefs and pastry chefs had the evaluation task, and had to taste and evaluate approximately ten thousand works. Norway was named the best, and is the new Olympic winner in the National Teams category, while Sweden had the best junior team.