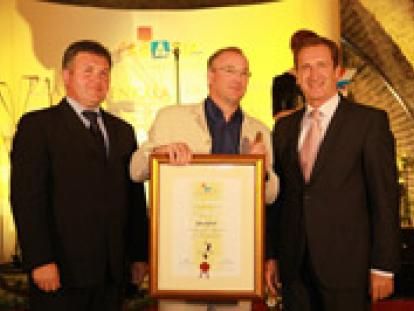 Written material 
Mr. Brice Charton received the prize on behalf of Mr. Jean Robert
Mr. Jean Robert has been awarded for his report about the natural beauties of our country "Croatie, dessinée à la craie", published in the leading French magazine dedicated to nature Terre Sauvage. Going round the natural karst oasis from Risnjak, across Plitvice, Velebit, Paklenica, Krka and Kornati, the author has concluded that Croatia has eight of the most beautiful national parks in this part of Europe. Along with the story about Croatian karst the author talks about its eco systems, flora and fauna. As he was born in the French part of the Alps love of nature comes naturally to Jeane Robert, an ocean lover that works as an environment reporter for the French and international media. Among other things he wrote about the Cernobil environmental catastrophe, poisoned waters in Bangladesh, he climbed the Kilimanjaro and filmed the last glacier in Africa.
TV report
The French television reporter Sandrine Quétier and production house Miss Luna Films owner Katherina Marx, have been awarded for the promotion of Croatian tourism with the tv magazine "Du Beau, Du Bon, Du Bien-être", shown in June of last year, in which Croatia has been introduced as a true lifestyle destination. The program, with over 5 million viewers is shown on the tv channel Stylia, and except lifestyle, it deals with topics from fashion, gastronomy, design and art, travel and celebrities. In the awarded show, each week the reporter reveals one trendy place and the best that it can offer. Viewers were introduced to the new Museum of contemporary art, cafes, bars and fashion designers in Zagreb. And in Istria to gastronomy delights, quality wines and olive oil. Fashionable spots were introduced on the island of Hvar and the Mediterranean way of life in Split, while in Dubrovnik, the cultural heritage and art. Sandrine Quétier has gained her fame working for many French and international tv networks ad she is specialized in topics from the world of fashion, celebrity, film and entertainment. Katherina Marx started her production career after a long career in modelling. Her documentaries give room to those who live differently and want to share their views of the world.