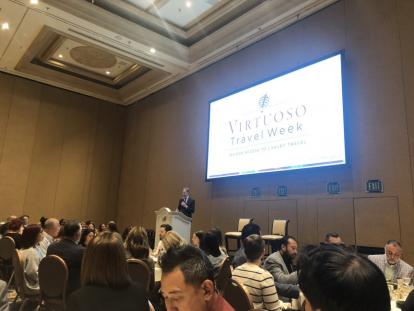 Virtuoso, the leading association of travel organizers for luxury tourism, has nominated the Croatian National Tourist Board for the world's best national tourist organization for the year 2019. The "2019 Virtuoso Award" award ceremony was held in Las Vegas as part of the "Virtuoso Travel Week", and the award for best tourist organization went to Switzerland. Among the finalists were the national tourist organizations of Australia, New Zealand and Slovenia. This nomination is also a confirmation that Virtuoso has recognized the innovation and creativity in the work of the Croatian National Tourist Board, as well as Croatia's potential as a luxury tourism destination.
Moreover, Croatia is among the top 5 fastest growing destinations on the US market, which is confirmed by the strong growth of tourist traffic in the last few years. Namely, in the last year alone Croatia has seen about 585 thousand arrivals and 1.6 million overnight stays from the US market, which in comparison to 2017 indicates a growth of 22 percent in arrivals and 18 percent in overnight stays. Positive trends were also maintained in 2019, during which a high growth of 11 percent in both arrivals and overnight stays was recorded. Another factor that contributes to the importance of this market is brought forward by data obtained through TOMAS survey, which the CNTB conducts in cooperation with the Institute for Tourism, according to which American tourists are the best consumers with an average of 158 euros spent on a daily basis.
In addition to the category for best tourist organization, Virtuoso gave out prestigious awards in other categories such as "Best on-site partner" which was awarded to the Croatian agency Calvados Club Luxury Travel from Split among a fierce competition of agencies that specialize in luxury travel from France, Italy, New Zealand and Vietnam.
Virtuoso is a network which includes the best American luxury travel agencies with more than 20,000 worldwide consultants and an annual turnover of more than 26.4 billion US dollars. The Virtuoso network includes more than 1,800 partners, including top hotels and resorts, tour operators, airline companies and agencies with the main goal being to offer clients carefully planned and unforgettable trips. The Croatian members of this prestigious network are Calvados Club Luxury Travel, Leonidas Travel, Fortuna Travel, as well as Villa Dubrovnik Hotel, Boutique Hotel Alhambra and from this year the Monte Mulini Hotel. It is expected that more Croatian members will be included in the network as there are other hotels that meet the Virtuoso's high standards and criteria, a community that is extremely important for the development and growth of luxury tourism.