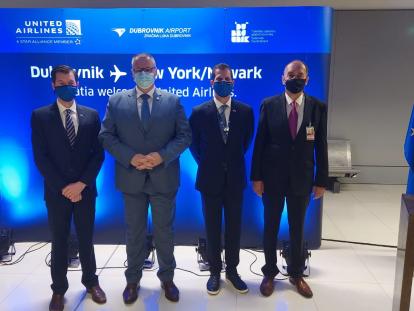 As of this Friday, Dubrovnik is connected with a direct airline with New York. Namely, 214 Americans arrived at Dubrovnik Airport with a direct inaugural flight by United Airlines.
The passengers were welcomed by Mayor Mato Franković, Director of Dubrovnik Airport Frano Luetić, Director of the Croatian National Tourist Board Kristjan Staničić and representatives of United Airlines. CNTB Director Kristjan Staničić noted during the welcoming ceremony that Croatia is one of the safest countries.
"This is a historic day for Croatian tourism. The US market is the most important long-haul market for our tourism. I think that Croatia and the USA are really great tourism partners. We are recognized as one of the top tourist destinations", concluded Staničić, adding that he believes that this will be a long-term cooperation between United Airlines and Dubrovnik Airport.