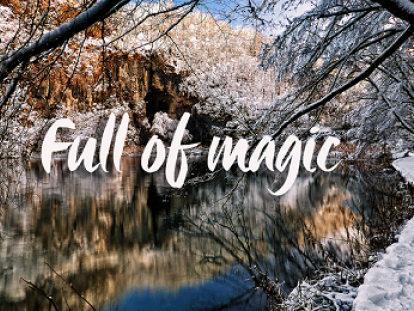 The Croatian National Tourist Board has launched a winter-themed communication platform "Croatia Full of Magic" on Facebook, Instagram and Twitter, which will be implemented through till the middle of January 2021. It is a campaign that aims to maintain Croatia's continuity and presence in the most important in-bound markets by bringing the beauty and diversity of Croatian destinations in winter closer to our followers, i.e. to keep our country a "top of mind" destination which they will visit again soon or possibly for the first time. As a part of this communication platform, a creative contest will be held for all fans who follow the Croatia Full of Life profile on Facebook.
"Given the epidemiological situation in Croatia and the world, the primary goal of the winter communication platform is to maintain interaction with millions of followers around the world, whereby we want to highlight our country as a high-quality and diverse destination year-round. We will use attractive winter photos and video materials of Croatian destinations, sights and tourist products, and we will also show traditional recipes for Croatian holiday delicacies. There are also two creative contests with which we want to ensure December, the month of giving, is festive for our numerous followers on social networks", said the Director of the Croatian National Tourist Board Kristjan Staničić.
Namely, the first creative contest is intended for foreign followers who can win a five-day stay in Croatia for two people in 2021, as well as various occasional gift packages, while the second creative contest is intended for domestic guests who, along with gift packages, as the main prize will be able to win an extended weekend stay in 2021 at the Frankopan Hotel in Ogulin and at the Ramarin Ranch in Slavonski Brod, which are the winners of the #prviput ("first time") competition. In this way, the CNTB wants to thank domestic guests for more than 11 million overnight stays in 2020 and encourage them to further explore their own country and discover Croatian tourist beauties.
Also, all the winter motifs will be promoted via specially created live photos on our Instagram and Facebook profiles, as well as through the specially created landing page Enjoy The Magic Of Croatia and Instagram profile @EnjoyTheView_FromCroatia. Through the mentioned profile tourist boards can deliver their photo and video materials, interesting holiday traditions and customs of their region, as well as activities in destinations in the winter period. All lovers of our beautiful country can also submit their "magical" views from Croatian destinations via e-mail [email protected], as well as through profiles on their social networks using the hashtag #EnjoyTheMagicOfCroatia.