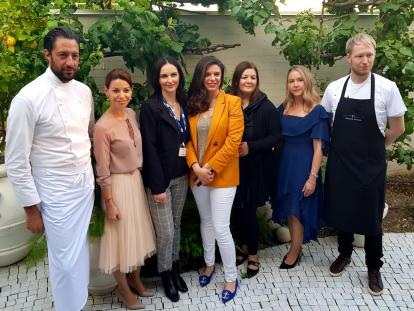 The exclusive "Four Hands Dinner", a dinner hosted by the Croatian Tourist Board and MICHELIN was held at the prestigious Lume by Luigi Taglienti restaurant in Milan. An original way of promoting Croatia's gastronomy with the help of the famous Italian chef Luigi Taglienti and the young Croatian chef Deni Srdoč from Draga di Lovrana restaurant, both recipients of the MICHELIN stars. They served their dishes to some of the biggest experts in the field, including some of the most famous Italian gastro-influencers.
"This is yet another in a series of cooperation events between the CNTB and Michelin, one of the most well renowned gastro-guides in the world, which makes us extremely honoured to be able to come to Milan after we've been to Paris. Italy is also a country well known for its fine cuisine and this is a great opportunity for us to introduce Croatia in the world of gastronomy, since gastronomy and wine are some of the key reasons why guests travel to a specific destination", said Kristijan Staničić, Director of the CNTB.
The Croatian National Tourist Board got in touch with Michelin's management in an attempt to try and make them recognise Croatia as a propulsive and popular tourist destination with an excellent and varied culinary offer, on which development and promotion we've worked intensively. Since Michelina's criteria are very strict, the choice and selection of restaurants and regions is being carried out in great secrecy. This year, the restaurants Noel (Zagreb) and Draga di Lovrana (Lovran) were awarded the prestigious Michelin star, while restaurants Pelegrini (Šibenik), 360º (Dubrovnik) and Monte (Rovinj) successfully kept their stars.
Also, the list labelled Bib Gourmand now has a total of eight restaurants, which is double the number compared to last year, while this year a total of 50 restaurants boast Michelin Plate label.
All of this is the result of a secret tour of Croatian restaurants by professional Michelin inspectors. The list for Croatia was published on the Michelin website, the world's most significant and most prestigious restaurant guide.
"We are delighted that today Croatia has as many as five restaurants with the prestigious Michelin star, and that after Rovinj, Dubrovnik and Šibenik, the prestigious stars have been rightly awarded to restaurants in the Kvarner Region and in Zagreb. The stars and the recommendations given to Croatian restaurants are proof that our gastronomic scene meets the very demanding international quality criteria and that we are increasingly more recognized in the world for our quality culinary offer. This is a strong incentive for us in the CNTB to further develop and promote this segment of our tourist offer around the world", Staničić added.
Some 93 percent of tourists while traveling experience that "special food and drink moment", which indicates that food and wine contents appeal to almost all tourists, and gastronomy is at the very top of the reason why guests come to visit our country.