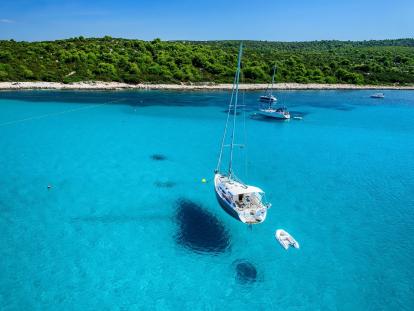 Based on a new decision and agreement between the Croatian National Tourist Board and the Ministry of the Sea, Transport and Infrastructure, payment of nautical tourist tax is now only possible and exclusively through the online portal nautika.evisitor.hr. Accordingly, boat owners can no longer purchase on the premises of port authorities and branches.
"This is a portal that we launched last year in July and which has been well received by boaters. In addition to Croatian, the portal is available in English, German and Italian, and translations into other languages are being prepared with a focus on markets that generate the most significant number of nautical guests", said the Director of the Croatian National Tourist Board Kristjan Staničić emphasizing how the online nautical tourist tax is an additional step in positioning Croatia as a safe tourist destination that guarantees its guests high-quality and safe service, which is extremely important in the circumstances of a global pandemic.
The nautika.evisitor.hr portal supports payments through all the world's most famous card brands, and after paying the nautical tourist tax, the boater will receive a confirmation to their email address, which they must keep during their entire stay on the vessel. Also, we remind you that in accordance with the Tourist Tax Act, boaters can either pay the mentioned tax according to the length of the vessel, and alternatively, since 2020 according to the number of persons and the number of nights.
In order to inform tourists about the new method of paying the tourist tax, special promotional materials have been created that contain instructions for using the portal and are available in nine languages - English, German, Italian, Slovenian, Hungarian, Czech, Dutch, French and Polish. 
Let us add that for persons who use the service of overnight stays on a nautical tourism vessel (charter / cruising), the method of payment has not changed and the tourist tax is paid to the company or individual owner of the vessel with whom they have contracted services of the vessel.