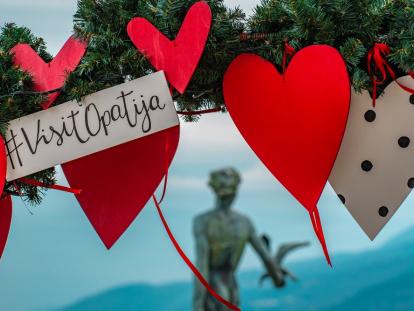 "With the contrast of the turquoise sea and green mountains, grand mansions, and a picturesque waterfront promenade, Opatija is one of the most romantic destinations in all of Europe". With these selected words, Opatija was presented by the popular portal Trips To Discover, including it in its list of 15 Romantic Travel Ideas for a Valentine's Day Escape in 2022. The choices of this popular tourist online edition, which is followed by more than 1.6 million people from all over the world, mostly from the USA, Opatija is ranked alongside renowned destinations such as Los Cabos in Mexico, French Strasbourg, Iceland, Portuguese Lagoa, Bermuda , Kauai in Hawaii or Key West in Florida (USA).
In the article "15 Romantic Travel Ideas for a Valentine's Day Escape in 2022", the Trips To Discover portal noted that Opatija has been attracting visitors with its charm, beauty and extraordinary gastronomy since the 19th century. This is the second year in a row that the "Queen of the Adriatic" has been included among the must-see places for Valentine's Day, because last year it was named one of the most romantic European destinations in the selection conducted by Best European Destinations and Forbes.
For all those who plan their arrival in the "month of romance", Opatija hoteliers have prepared top offers that will last throughout February, and with romantic walks in parks and promenades, the perfect vacation for lovers will provide relaxation in wellness centres and gastronomic specialties in Opatija restaurants, hotels and cafes.
"If all we need is love, as The Beatles sang, then Opatija offers everything we need in February, but even more. The love story is woven into the fabric of Opatija as a tourist destination, also there is a long tradition of our city as popular romantic destination, and we are glad that for the second year in a row Opatija is recognized by renowned media from the world of tourism. All our visitors can expect a truly unique Valentine's atmosphere and all they have to do is relax and enjoy the charm of Opatija and beautiful moments in the company of their loved ones", said the Director of the Opatija Tourist Board, Suzi Petričić.