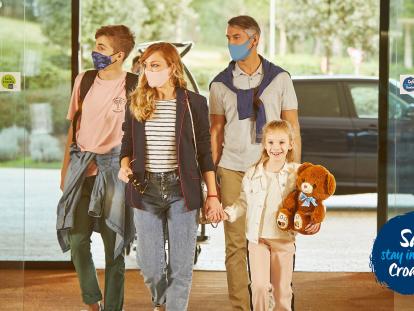 Croatia recorded 30.7 million tourist bed nights in August 2021, which is 46% more than in August 2020 and 93% of the result from August 2019, the Ministry of Tourism and Sport said on Wednesday.
A total of 4.3 million tourists visited Croatia in August 2021, which is an increase of 59% on 2020 and 86% of the result from August 2019. Foreign tourists generated 26.7 million bed nights and domestic tourists 4 million.
The largest number of bed nights (8.6 million) was registered in Istria County, ahead of Split-Dalmatia County (5.8 million), Primorje-Gorski Kotar County (5.7 million), Zadar County (4.8 million), Šibenik-Knin County (2.8 million) and Dubrovnik-Neretva County (1.9 million). 
The most popular destinations were Dubrovnik (164,000 tourist arrivals), Split (160,000), Rovinj (149,000), Medulin and Poreč (both 125,000).
The majority of foreign tourists were Germans (1.1 million, or 83% more than in 2020), followed by Poles (338,000, +7%), Austrians (317,000, +182%), Czechs (250,000, +30%), Slovenians (239,000, the same as last year) and Italians (205,000, +100%). 
In the first eight months of this year, 10.7 million tourists visited Croatia, generating 67.9 million bed nights, which is 56% more arrivals and 43% more bed nights than in the same period of last year.
"The tourist year continues, as indicated by the fact that about 680,000 tourists are currently staying in Croatia, the same number as at this time in 2019. This is an excellent indicator for September as we want to continue at the same pace to further boost the economy and ensure an even better starting position for the tourism industry for next year", Minister Nikolina Brnjac said.
She noted that the sector was also seeing excellent financial results as the value of fiscalised receipts in August was 21% higher than in August last year, while in the first eight months of this year they reached nearly HRK 18 billion, or about 84% of the value achieved in the same period of 2019.
"The main part of the summer season is behind us, in which the entire Croatian tourism sector has done an excellent job. We have weeks ahead of us in which, according to the bookings of our most important partners and tour operators, we can expect very good tourist traffic. For the post-season, we have prepared several promotional activities to ensure our country's further visibility in the tourism market as a quality, diverse and above all safe destination where the prescribed epidemiological measures are respected", said the Director of the Croatian National Tourist Board Kristjan Staničić adding that some of the activities like "Living like a local. Explore rural Croatia!" will be aimed at Croatia in order to motivate as many domestic guests as possible to travel and explore our country.
(Hina) vm