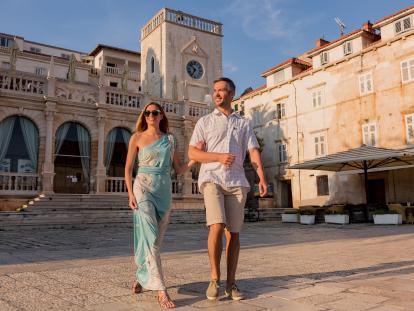 According to a study conducted by the French specialized tourist magazine Echo Touristique, ten trends will mark the travels of French tourists in 2021, said the Director of CNTB's representative office in France, Danijela Mihalić Đurica.
The result of the study shows that the French are eager to travel and that they will certainly travel as soon as the quarantines and travel bans end. Most French people will travel to one of the French or Central European destinations this year, with a preference to stay in nature and because of this, rural areas will attract more guests than cities. Also, in 2021, the French will book a large number of vacations through travel agencies that offer the possibility of cancelling reservations, providing refunds due to cancellations and through agencies that offer reliable information on the health and safety situation of individual destinations. Flexibility of reservations will be one of the basic criteria when choosing a vacation, and an increase in last minute bookings is expected.
The data also shows that the French will not travel on multiple trips this year, which has been the case so far, but rather their trips will be fewer and longer. Due to the current trend of working from home, many French people will combine vacation and work from home, so an increase in long bookings on platforms such as Airbnb and Booking is expected. The study further shows that strict health and safety measures will have a significant impact on the choice of accommodation, and the use of contactless technologies at airports and in accommodation and transport units will be emphasized, given that such technologies instil greater confidence in passengers in the current situation.
"The French can hardly wait for the situation to calm down and the possibility of international tourist travel again, and due to that, close and mid-range but safe destinations could benefit the most this year, according to all the research. Based on the above, in February we are launching a cycle of virtual events, i.e. webinars, with which we will present Croatia as an attractive and safe destination to interested agencies and travel organizers. At the same time, a special emphasis will be placed on airlines and trends in air traffic, because most airlines, including Air France, Transavia and Volotea, are optimistic about flights to Croatia", said Mihalić Đurica.
We'd also like to note that according to the latest research by INTERFACE and the ETIM platform - European Traveller Intelligence Monitor, more than 42 percent of French people take into account the safety of a destination as a crucial factor when choosing their holiday destination.