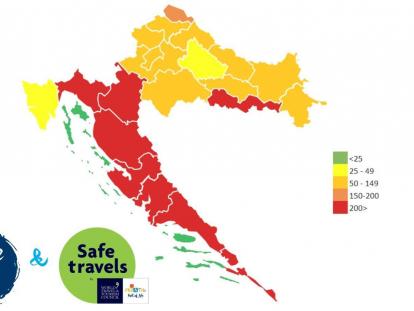 Ministry of Tourism and Sport in cooperation with Croatian Institute of Public Health has launched the "Croatian islands - COVID-free zones" campaign and will soon publish on the www.safestayincroatia.hr website information on the epidemiological situation on islands, which have a much lower COVID-19 incidence than the counties they are located in.
"Croatia's epidemiological map currently shows islands as part of their counties even though the coronavirus incidence on islands is much lower than in other parts of the counties where they are located," said the ministry in their statement.
The website www.safestayincroatia.hr will therefore offer visitors not only information on the epidemiological situation in individual counties but also separate information on islands.
Croatia has 78 islands, 524 islets and 642 rock islets and reefs which are especially attractive to tourists and which account for a large portion of tourism turnover.
"The importance of our islands for tourism is extremely high, because a quarter of tourist nights in Croatia are realized on the islands, and the stay of tourists on the islands is two days longer than in mainland tourist centers. Also, a third of commercial accommodation is located on the islands and that is why it is important that we have accurate information on the epidemiological situation on all islands, many of which are green zones. In this way, we will provide tourists with a detailed and clear insight into a safe and pleasant stay in Croatia", said the Minister of Tourism and Sports Nikolina Brnjac.
The www.safestayincroatia.hr website will also contain information on all COVID-19 testing points as well as information on air, land and sea transport connections between islands and the mainland.
(Hina)