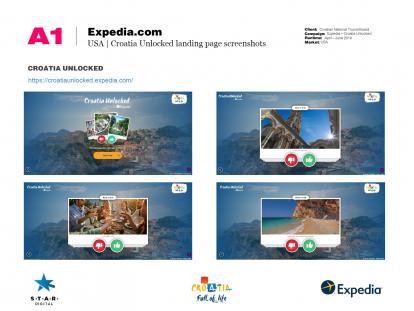 According to the report about the results of the digital campaign carried out by the Croatian National Tourist Board on the US market in cooperation with Expedia, the world's leading travel platform, 22.2 million impressions have been generated. A joint campaign called "Croatia Unlocked" ran from April to June of this year aiming at increasing visibility, strengthening its position and promoting Croatia on the US market as an ideal year-round Mediterranean destination. 
In its portfolio, Expedia Group includes some of the world's most reliable travel brands such as: Hotels.com, Trivago, Travelocity, Cheaptickets, HomeAway, etc. The platform reaches over 144 million monthly unique visits, with over 7 million followers on social media networks.The primary objective of the campaign was to spark the American travellers' interest for Croatian destinations, while direct booking, set as an additional goal of the project, produced excellent results. Namely, for the duration of the campaign, accommodation was booked as well as plane tickets were purchased for a total of 3.2 million US dollars.
During the campaign, there was a total of 6,700 overnight stays mostly in Dubrovnik, Split, Hvar and Zagreb and 2,900 plane tickets to Croatia were sold by Croatia Airlines, American Airlines, Australian Airlines, British Airways, Lufthansa, Turkish Airlines, Air France, easyJet, etc.