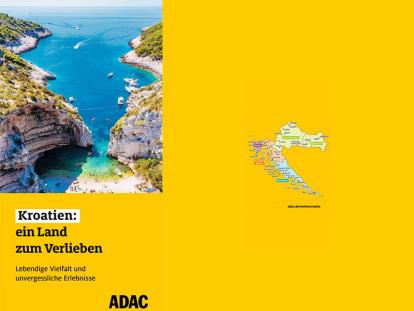 The largest German and European automobile club ADAC, with 22 million members, published a brochure entitled "Kroatien: ein Land zum Verlieben" ("Croatia: a country to fall in love with"), which is fully dedicated to Croatia as a tourist destination, said Nera Miličić, Head of the Branch Office of the Croatian National Tourist Board in Munich.
"ADAC is the most important source of information for Germans when it comes to traveling abroad, which is especially important if we know that over 70 percent of guests from Germany during the pandemic realized their travels by car. In this context, our cooperation with ADAC is of great importance because in this way we provide our guests with accurate information on travel conditions and planning and we also have the support of one of the most influential German institutions that enjoys great trust of its citizens and our most numerous guests, said Miličić, adding that Croatia is presented in the brochure as a destination of rich diversity and unforgettable experiences.
Among the Croatian regions, the brochure highlights Istria as a Croatian picturesque peninsula, which stands out for its medieval towns and places, beautiful beaches, Venetian heritage, Roman relics and numerous bays. For Kvarner is written that it is a region that stands out for its beautiful coast and islands, of which Krk, Rab, Cres and Lošinj stand out. A lot of sun, natural beauty and cultural heritage is associated with Dalmatia, the capital Zagreb is highlighted as the centre of Croatia, while Central Croatia and Slavonia are shown as hidden gems of our country.
"The importance of ADAC is evidenced by the fact that this voluntary association enjoys the greatest trust of citizens in Germany and is the first address for service information when planning a trip. ADAC operates in more than 150 branches throughout Germany and is one of our most important strategic partners in the German market" said the Director of the Croatian National Tourist Board Kristjan Staničić.
At the very end of the brochure, many readers will have at their disposal useful information related to traveling to Croatia, from tips for traveling by car to information related to camping.