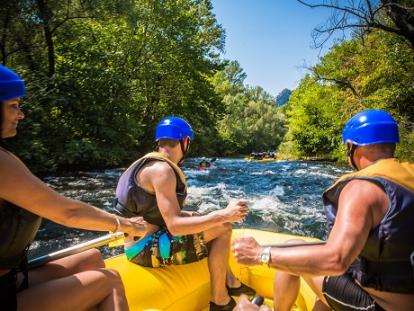 Foreign tourists realised 10.8 million overnight stays, while domestic tourists realised 1.2 million overnight stays, according to  data from the eVisitor system, which contains tourist traffic in commercial and non-commercial facilities and nautical charter. Compared to the results in 2019, which was a record for tourism in Croatia's history, in September this year, 81 percent of arrivals and 94 percent of overnight stays of September 2019 was realised.
Most tourist overnight stays were in Istria (3.8 million), Split-Dalmatia (2.3 million) and Primorje-Gorski Kotar County (2.1 million), followed by Zadar County (1.5 million overnight stays), Dubrovnik-Neretva County (903,000) and Šibenik-Knin County (807,000). The most popular destinations are Dubrovnik (108,000 arrivals), Split (88,000), Rovinj (85,000), Zagreb (82,000) and Poreč (61,000 arrivals). Looking at the markets, in September most tourists came from Germany (527,000), Austria (187,000), Poland (116,000), Slovenia (100,000), the Czech Republic (85,000) and the United Kingdom (72,000).
"After excellent summer months, Croatia continued to achieve excellent results in the off-season. With more than 12 million overnight stays realised in September, we reached as much as 94 percent of the turnover from September 2019. We are especially satisfied with the September financial indicators, ie the value of fiscalised accounts in tourism, which is 18 percent higher than in September 2019. Their value amounted to more than HRK 21 billion, which is about 88 percent of the value from the first nine months of 2019. I believe that the positive trends will continue in the coming period and that a significant contribution will be made by the action "Month of Croatian Tourism", which just started today," said Minister of Tourism and Sports Nikolina Brnjac.
According to the type of accommodation, most overnight stays were realised in households (3.8 million), camps (2.9 million) and hotels (2.7 million).
"Very good tourist trends continued after the main summer months, which is confirmed by the results achieved in September. Namely, in September, the camps recorded a growth of 25 percent in overnight stays compared to September, a record 2019, in household facilities a growth of 3 percent, while hotels are at about 77 percent of the results from September 2019. The announcements for October are also good, and we expect very good results from the "Croatian Tourism Month" campaign, in which all Croatian citizens and foreign guests can use numerous tourist products and services at reduced prices throughout the month," said the director of the Croatian National Tourist Board Kristjan Staničić, again calling on everyone to behave responsibly and adhere to all epidemiological measures.
In the first nine months of this year, 12.6 million arrivals and 80 million overnight stays were realised in Croatia, ie 70 percent more arrivals and 53 percent more overnight stays than in the first nine months of 2020. Compared to the first nine months of 2019, this year in the first nine months 67 percent of arrivals and 78 percent of overnight stays were realised in the same period in 2019. This year, the highest number of overnight stays was made by guests from Germany (20.3 million), followed by domestic tourists (11.3 million), guests from Slovenia (8.6 million), Poland (6.6 million) and Austria (6 million). Most tourist overnight stays were realised in Istria (22.7 million), Split-Dalmatia (14.8 million) and in Primorje-Gorski Kotar County (14.7 million), while the most popular destinations were Rovinj with 3.3 million overnight stays, Poreč with 2.5 million and Medulin with 2.3 million overnight stays.
Source: CroatiaWeek