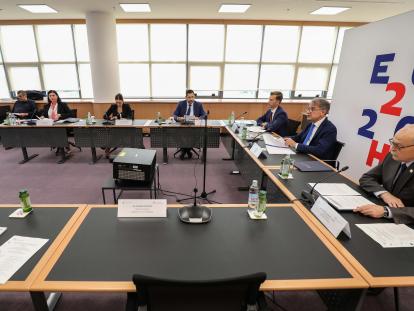 Yesterday, a video conference of tourism ministers of the Member States of the European Union was held at the National and University Library in Zagreb to discuss a coordinated action plan for the implementation of the European Commission's Tourism and Transport Package and to enable the ministers to contribute to the discussions on the Recovery Plan.
Following the unveiling of the package of guidelines and recommendations for tourism and transport  on May 13th,  this will help Member States gradually lift travel restrictions and allow tourism companies to reopen, after months of closure, respecting the necessary health measures, the Croatian Presidency of the Council of the EU has organised this second video conference for tourism ministers aimed at enabling member states to share their views on the Commission's Package of Guidelines and Recommendations.
"I am pleased that all bodies have come together quickly and effectively and that the Tourism and Transport Package has been presented with guidance and recommendations on how to safely continue to travel and restart European tourism in 2020" but also in the long term. It is important for tourism ministers to exchange their views, with the inclusion of ministries of the interior, transport and health, all extremely important in establishing freedom of movement and thus the revitalization of tourism in Europe. Further cooperation at the EU level is important in order to jointly develop a plan for further relaxing measures and restarting and designing the future of tourism, encouraging the tourism sector to be creative and adapting to change. The relaunch of this sector should be used to ensure the sustainable development of destinations, supported by digital technologies, as tourism is essential as a source of much-needed revenue for local communities and individuals," said Croatian Tourism Minister Gari Cappelli.
The conference was attended by representatives of all EU member states and the European Commissioner for Thierry Breton the European Commissioner for Internal Market, who presented the Package of Guidelines and Recommendations for Tourism and Transport, as well as the Commissioner for Transport Adina Vălean.
Considering the importance of tourism for the overall economy in the European recovery plan, adequate support for the tourism sector is expected. As the summer season is fast approaching and there is strong pressure from tourism service providers as they still have many outstanding issues relating to the restart and implementation of the Commission's guidelines and measures, the conference highlighted that the deadlines and conditions for the implementation of the Package and the continuation of dialogue between Member States must be defined.