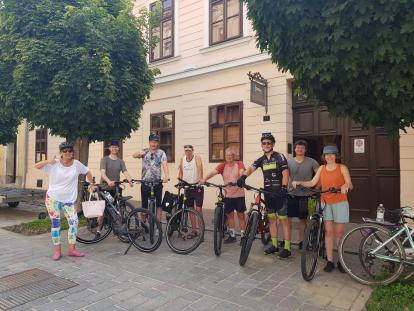 In the organization of the Croatian National Tourist Board - Representative office in Benelux there is a study trip in underway for the group of Dutch journalists which includes a cycling on the route Amazon of Europe, which stretches along the Drava and Mura rivers. 
Dutch journalists write for some of the most important magazines and portals specializing in active holidays, such as FietsActief, Pasar, Fietsersbond, Ronreizen, Mountainreporters, Hicleholidays, Soul Media-Electrified E-Bike Magazine, The outdoors and The bike. One of the journalists and participants of this trip is a member of the organizing committee of the Fiets-en Wandelbeurs Utrecht, the most popular fair in the Netherlands on the topic of cycling, hiking and active holidays in nature, which gathers around 40 thousand visitors interested in this type of trip every year, and at which they also represent numerous Croatian regions.
The co-organizers of this trip are tourist boards of the Osijek-Baranja, Virovitica-Podravine, Koprivnica-Križevac, Međimurje and Varaždin Counties so Dutch journalists, accompanied by experienced local guides, will tour the beauties eastern and northern Croatia, Osijek, PP Kopački rit, Pustara Višnjica, Đurđevac and Đurđevačke pijeske, Sveti Martin na Muri, Mursko Središće, Varaždin, Motičnjak and numerous other attractions in these areas.
Journalists, in addition to getting to know the natural and cultural sights and beauties of Slavonia, Baranja, Podravina, Međimurje and Varaždin County, will also be able to familiarize themselves with the increasingly rich and diverse accommodation offer on this route and will be able to enjoy the rich gastronomic offer and delicacies, taste excellent wines from century-old wine cellars and discover the pristine hospitality of this region.
"Thanks to the numerous written, pictorial and video materials that the journalists will publish in the Dutch media upon their return, the Croatian continent and rural areas will receive excellent promotion on the Dutch market. Namely, it is the Dutch as guests who are ready to discover new destinations and are happy to travel to less visited and popular destinations, as evidenced by the statistics of numerous Croatian continental counties, where Dutch guests are often among the top 10 most important emission markets in terms of the number of overnight stays", said Ivan Novak, director of the HTZ Representative Office for Benelux.
The Dutch are one of the nations with the biggest fans of cycling, which is also shown by the data of the Dutch Cyclists' Association, according to which there are as many as 23 million bicycles in the Netherlands, while each citizen of this country cycles on average 900 kilometers per year on the 37.000 km of trails that are reserved for cyclists.