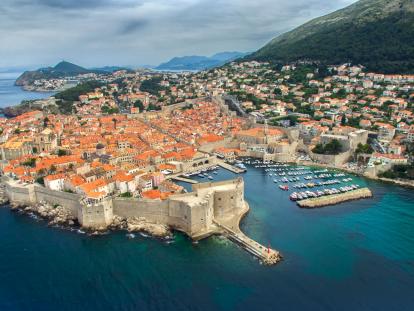 The 11th "Leisure Lifestyle Awards" was held in Philadelphia, in organization of specialized magazine Global Traveler, and one of the stars of the evening was the Croatian tourist pearl Dubrovnik, which was declared the best leisure destination for groups. The award was accepted on behalf of Dubrovnik by Leila Krešić Jurić, director of the CNTB Representative Office in New York, who highlighted Dubrovnik's excellent position on the US market, which, among other things, is confirmed by this award.
"When we talk about Croatian destinations and their recognition among Americans, Dubrovnik leads the way in terms of brand strength, and at the same time it is the leading Croatian destination where guests from the US market achieved the most arrivals and overnights this year. Namely, with 68,000 arrivals and almost 200,000 overnight stays, Dubrovnik achieved a growth of over 50 percent in arrivals and over 40 percent in overnights on the US market compared to last year. In the rest of the year, we expect the continuation of positive trends, both for Dubrovnik and for Croatia as a whole, given that the US market is currently among the top 10 markets from which the most overnight stays have been made in our country so far this year," said Krešić Jurić. 
The awards were based on a survey conducted by Global Traveler magazine among its readers between December 6, 2022 and April 1, 2023, and the detailed questionnaire covered a number of travel categories with a particular focus on the luxury segment and lifestyles.
"Since American tourists are in second place in the number of tourists in Dubrovnik, and United Airlines connects Dubrovnik with the USA with a direct flight four times a week, the USA market is extremely important for Dubrovnik, and it is very important to maintain the visibility and targeted promotion of Dubrovnik as a desirable tourist destination, to which this recognition greatly contributes. In the future, we will continue with strong promotional activities on the American market, as well as our participation in fairs, forums, workshops and cooperation with airlines and numerous media", said Miroslav Drašković, director of TB of the city of Dubrovnik.
Global Traveler magazine is recognized as a prestigious publication focused on luxury travel and the needs of travelers looking for this type of products and services, and the awards were presented in the beautiful setting of the Union League of Philadelphia club, which was founded in 1862.