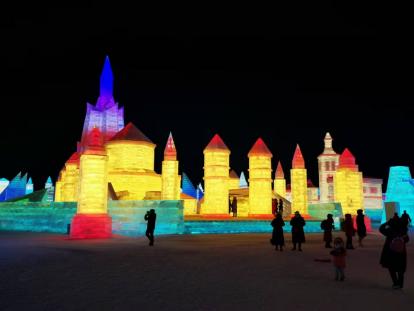 For the first time, the largest and most famous world Snow and Ice Festival, held in Harbin in northern China, features an ice sculpture representing Croatia, i.e. a part of Diocletian's palace, said Franka Gulin, Director of the CNTB Representative office in China.
"When creating the ice palace of Emperor Diocletian, the organizers positioned this valuable cultural monument in the very centre of the exhibition, presenting the palace as one of the few legacies of the Roman Empire that still lives and breathes with its inhabitants today. This is a great opportunity to promote Croatia on the Chinese market because it is an extremely popular and unique world event", said Gulin, who, together with the Ambassador of the Republic of Croatia in China Dario Mihelin and the Director of the Representative Office of the Croatian Chamber of Economy Dražen Holmik, participated in the opening of the festival.
The theme of this year's 22nd Snow and Ice Festival, which will last until the end of February, is the heritage of all 18 participants through the Cooperation between the States of Central and Eastern Europe and China. The festival itself consists of two main exhibition sections, namely the Sun Island recreational section along the Songhua River where giant snow sculptures are displayed and the Ice and Snow World section, which is open only in the afternoon and at night with special illumination of exhibition areas.  The sculptures are the size of buildings and are made from blocks of ice that have been extracted from the Songhua River, which is a very specific technique that requires significant preparation.
The Harbin Ice and Snow Festival has been held annually since 1963 in the northern Chinese city of Harbin in Heilongjiang province, and today it is the largest and most visited snow and ice festival in the world, attracting more than 18 million visitors annually. Initially, the first participants at the festival were only Chinese, but the festival soon turned into a major international competition in making ice and snow sculptures. Harbin is a city with strong Russian and Eastern European influence when it comes to culture and architecture, and during the winter it is affected by a cold Siberian front with average winter temperatures of -25 degrees Celsius.