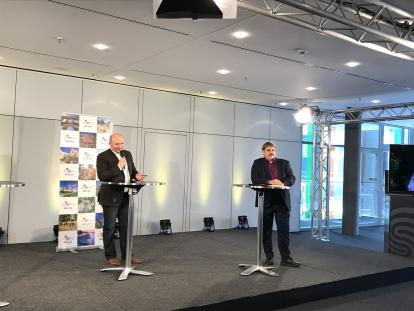 The Croatian tourist offer was presented at the virtual edition of the CMT fair in Stuttgart, reported the Director of the Croatian National Tourist Board Representative office in Germany, Romeo Draghicchio. The CMT fair is the first major tourism event in Germany this year that marks the beginning of a period of greater tourism sales and promotion in 2021. The fair usually attracts more than 250 thousand visitors, mostly from the province of Baden-Württemberg, but this year it was held in virtual form due to epidemiological measures.
"The presentation of the Croatian offer at the CMT fair is an important part of the promotion and positioning of our country on the German market, from which we record the most visitors from the southern provinces such as Baden-Württemberg. In addition to the attractions that tourists can visit in Croatia, the main topics of our presentation were news and trends in the Croatian tourist offer to show all interested visitors that Croatia is a safe and well-prepared tourist destination. The greatest interest was expressed for the Croatian camping offer since the CMT fair is traditionally interesting for this group of tourists", said Draghicchio, adding that virtual visitors of the fair could watch live performances and presentations of individual destinations and search for information about the offer and situation in online chat. 
As in previous years, the results of the renowned tourist research "Reiseanalyse 2021" of the FUR Institute were presented as part of the fair. Each year, the Reiseanalyse provides an overview of the behaviour and consumption of German tourists in the past tourist year and predicts the main trends in tourist demand for the upcoming tourist season. Regarding travel in 2021, the research reveals that the decisive factor in making a travel decision will be valid measures against the spread of coronavirus, and other important factors that include flexibility, reduced risk for travellers, travel safety and high hygiene standards.
According to results published, in 2021 less interest is expected for air travel and long-haul destinations because priority will be given to closer destinations that can be visited by car and that provide the possibility of distancing from other guests. Although the overall preference for travel in 2021 is at a good level, realization will depend on the possibilities, or the available time and budget and the desire to travel, which remains an indispensable part of the quality of life of Germans.