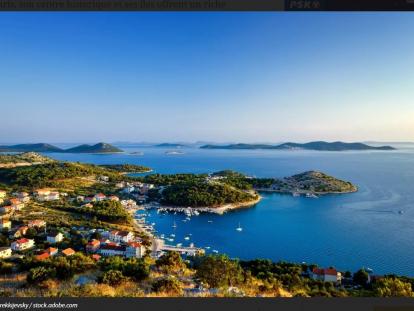 Croatia has seen an explosion of tourists from France this year with 150 percent more French tourists compared to last year.
And certainly one motivation has come from the French media who have been covering Croatia is great detail this year. According to French Vogue, Croatia is one of the favourite summer destinations of many world famous celebrities.

A report from a recent study trip organized by the Croatian National Tourist Board in France, in cooperation with Transavia Airlines and with the support of the Zadar County Tourist Board, was reported in one of the most widely read French newspapers, the prestigious Le Figaro.

In the article "Zadar et ses îles, bijoux méconnus de la Croatie" or "Zadar and its islands - unknown gems of Croatia", a famous French journalist specializing in tourism Ludovic Bischoff conveys his impressions of Zadar and the region and emphasizes the city's extremely rich history. cultural diversity and heritage that offers tourists many opportunities. The text lists the best destinations to visit, suggests to readers where to stay, and in which restaurants to taste the recognizable gastronomic offer of Zadar County. Special emphasis was placed on the island of Pag and the tradition of salt production, Pag lace, but also the cultural and historical heritage of Royal Nin and the wealth of the Paklenica National Park.

"So far this year, Croatia has recorded more than 230,000 arrivals from the French market, which is almost 150 percent more than last year. At the moment, there are about 27,000 French guests in Croatia who especially prefer the Split-Dalmatia and Dubrovnik-Neretva counties and are increasingly discovering Istria. Their favourite destinations are Split and Dubrovnik, but also the island of Hvar, which currently exceeds the results from 2019 in terms of French tourist traffic by 30 percent. During this year's summer season, Croatia and France are connected by numerous airlines directed to the airports of Zagreb, Pula, Zadar, Split and Dubrovnik. And the French can fly to Croatia from Paris, Bordeaux, Lyon, Marseille, Nantes, Nice, Strasbourg and Toulouse, offering more than 30 different scheduled, low cost and charter flights from Transavia, Volotea, Ryanair, Easyjet, Croatia Airlines and Air France," said the director of the Croatian Tourist Board, Kristjan Staničić.

Let us add that in the previous part of August we recorded about 100,000 arrivals and 380,000 overnight stays of French tourists, which is 103 percent more arrivals than during the comparable period in 2020, is the level of 74 percent of arrivals recorded in the same period in 2019.

"In the opinion of popular French Vogue, Croatia is one of the favorite summer destinations of many world stars, while one of the most popular French tourist guides Petit Fute puts special emphasis on Istria, which French guests are increasingly discovering," added Mihalić Đurica.