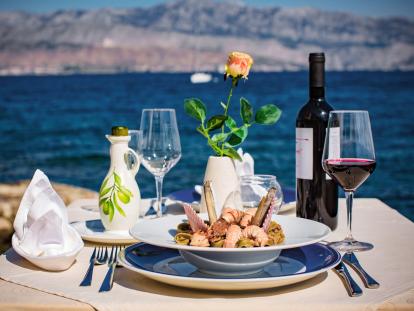 Excellent news for Croatian gastronomy comes from MICHELIN, globally the most important and recognized gastronomic guide, which awarded the Croatian restaurant Korak from Jastrebarski with a prestigious star. Now Croatia can boast a total of 11 holders of this prestigious mark, given that the restaurants Pelegrini (Šibenik), 360º (Dubrovnik), Monte (Rovinj), Noel (Zagreb), Draga di Lovrana (Lovran), Boškinac (Novalja), LD Restaurant (Korčula), Nebo (Rijeka), Alfred Keller (Mali Lošinj) and Agli Amici (Rovinj) successfully kept their stars.
"The new selection of Croatian restaurants by MICHELIN confirms that the gastronomic scene of our country progresses year by year and follows global trends, that is, that Croatia offers top quality in this segment, which is recognized by the MICHELIN inspectors themselves. The fact that Croatia today has 11 restaurants with a prestigious star, i.e. that we have a total of 89 restaurants bearing some of the MICHELIN marks, will make great use in our promotional activities and efforts to position Croatia even more strongly as a high-quality, sustainable and desirable year-round food and wine destination", said Kristjan Staničić, director of the Croatian National Tourist Board, sending sincere congratulations to all awarded and singled out restaurants.
As part of the new MICHELIN guide for Croatia, the restaurants Zinfandel's (Zagreb) and Konoba Mate (Korčula) successfully retained their MICHELIN Green Star label, while the restaurant Korak (Jastrebarsko) was also awarded this label, which is given to restaurants that are especially dedicated to gastronomy that is sustainable and environmentally friendly.
"This year, inspectors of the MICHELIN guide noticed that more and more attention is focused on the quality of local ingredients and that chefs and restaurant owners are more and more committed to looking for local farmers. Whether it's restaurants with a MICHELIN star or a Bib Gourmand label, respecting quality ingredients is a priority because our teams strive for quality gastronomic experiences", said Gwendal Poullennec, international director of the MICHELIN guide, adding that Croatia is an example of true sensitivity towards sustainability and ecological culinary practices.
In addition to the aforementioned marks, MICHELIN has additionally included three more restaurants on the Bib Gourmand list, i.e. restaurants, so today Croatia can boast a total of 14 restaurants with this MICHELIN mark, which is awarded to restaurants that offer quality menus at affordable prices.
"The new MICHELIN guide shows that modern Croatian gastronomy is becoming one of the most interesting in Europe and is the best invitation to many tourists who want to enjoy a visit to Croatia precisely thanks to the elements of the Mediterranean and Central European culinary tradition, excellent indigenous ingredients, and especially the creativity and passion of Croatian chefs. Therefore, in our Sustainable Tourism Development Strategy until 2030, the development of food and wine tourism occupies an important and special place. Inclusion in world-relevant gastronomic guides such as MICHELIN is recognition and a significant incentive for everyone who works to improve the diversity of Croatian gastronomy, and I heartily congratulate everyone who won their stars this year. I believe that every new MICHELIN guide will include new Croatian chefs, because they certainly deserve it", concluded Minister of Tourism and Sports Nikolina Brnjac.
Let's add that the new labels are the result of a secret tour of Croatian restaurants by professional inspectors from MICHELIN, the globally most important and recognized restaurant guide on whose pages the list for Croatia is published.