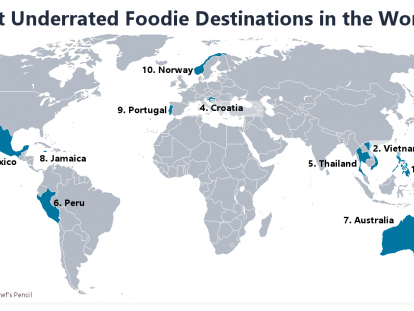 Renowned Australian gastronomic portal Chef's Pencil has ranked Croatia one of the best underrated gastronomic destinations in the world. It is a selection of "Most Underrated Foodie Destination in the World" conducted among 250 renowned chefs and culinary experts, who have singled out insufficiently represented gastro destinations that with their gastronomic offer and richness can stand side by side with popular gastro destinations such as France and Italy. According to the results of the survey, Croatia placed fourth, with the list led by the Philippines, Vietnam and Mexico, followed by Thailand, Peru, Australia, Jamaica, Portugal and Norway.
"Recognitions like this give us an additional boost to continue with the development of our gastronomic scene and to continue promoting ourselves as an attractive and quality gastronomy destination, which we truly are," said CNTB Director Kristjan Staničić.
According to the results of the survey, a list of underrated gastro destinations was compiled, which offer an unforgettable gastronomic experience for all lovers of good food. Despite Croatia already being recognized for its gastronomic excellence, the chefs and experts who participated in the survey felt that our country deserved additional international recognition.
The Croatian National Tourist Board promoted Croatian gastronomy, as well as Croatian chefs and regional gastronomic specialties on this renowned portal in 2020. Kvarner was presented by the youngest Croatian MICHELIN-starred chef Deni Srdoč, who gave readers a recipe for a dish named "Heritage lamb". Marko Gajski, chef of LD Terrace in Korčula, who was also awarded a MICHELIN star this year, presented the Dalmatian region through his original recipe for Komiška pogača, while chef Bruno Vokal from Noel, Zagreb's first MICHELIN-starred restaurant, shared his original recipe for "deconstructed štrukli". Marina Gaši, chef and owner of the family restaurant Marina in Novigrad, presented the flavours of Istria through Sardines Tartare. The story of Croatian gastronomy was concluded by Tomica Đukić, chef of hotel Osijek and official chef of the Croatian national football team, who presented the rich flavours of Slavonia with flavoured black Slavonian pork fillet with pumpkin and beetroot.
The full Chef's Pencil report can be viewed here.