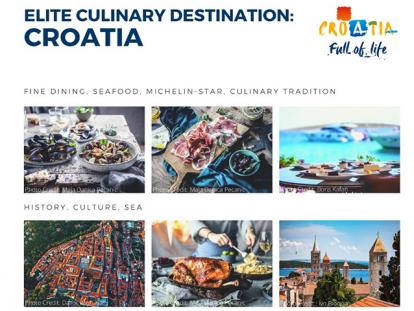 The Croatian National Tourist Board, in cooperation with the renowned Australian gastro portal Chef's Pencil, highlights Croatia's gastronomy, chefs and regional cuisines and specialties. The collaboration launched with an overview of the richness and quality of Croatian gastronomy.
Over the next seven weeks, famous Croatian chefs will present the most important Croatian gastronomic regions, while at the end of the promotion in July, the entire Croatian gastro scene will be presented as part of the best gastronomic destinations in Europe.
"After the promotion of Croatian gastronomy as part of the great campaign promoted by the World Tourism Organization, Croatian gastronomy has been given another great opportunity to present itself to numerous followers of the popular Australian portal Chef's Pencil. At a time when we as a tourist destination are difficult to access to many Australians and other distant markets, it is important to further promote our country to all those who love and appreciate it or just want to get to know it, and allow them to travel to one of our regions with one click and offer everyone the opportunity to try to prepare and try some of our specialties in their homes," said the director of the CNTB Kristjan Staničić, adding that renowned chefs from Croatian restaurants with a MICHELIN star will participate in the project.
The Chef's Pencil web platform was created eleven years ago as a place where professional chefs shared their favourite recipes and was launched by chef Paul Hegeman from Sydney. The content is intended for all people interested in gastronomy, from professional chefs to amateur food lovers and gourmets. In addition to numerous recipes, the site contains useful cooking tips, tips for visiting gastronomic tourist destinations, the latest reports from the culinary industry, and professional advice for all people who want to do gastronomy. So far in 2020, the site has received over one million and 200 thousand visits, and has been followed by fans across all social networks as it is a reliable source of information for the food industry. 
Chef's Pencil stories and recipes are regularly published by lifestyle magazines around the world such as the Toronto Sun, The Independent, Forbes, Vogue, The Guardian, The Kitchen, The Sidney Morning Herald, Pacific Business News, Vancouver Sun, Newsweek, Euronews, IOL, Eater and others.