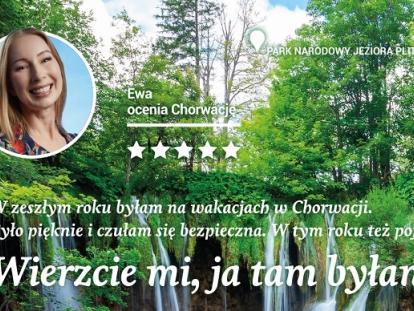 The Croatian National Tourist Board is launching its high-season brand promotional campaign "Trust me I've been there" across 12 key markets including Germany, Slovenia, Austria, Italy, Poland, the United Kingdom, the Czech Republic, Hungary, France, the Netherlands, Slovakia and Russia. The campaign will be active until the end of July, and is implemented through activities across social networks including Facebook, Instagram and YouTube, as well as via high-viewership TV channels, top-rated and most read portals and newspapers in each market and through outdoor advertising on billboards, digital panels and public transport. The goal of the campaign is to invite guests to spend their vacation in Croatia, as well as to further position our country as an attractive, safe and well-prepared destination.
"This is a new campaign that is different from all previous ones, i.e. that is personalized and adjusted to the preferences of each individual market. It is with this goal that we decided to create unique messaging, and the main faces of the campaign are satisfied guests who invite their fellow citizens to come to Croatia and shared first-hand information that our country is an ideal and safe destination for summer vacation" said the CNTB Director Kristjan Staničić, adding that the Safe Stay label in Croatia will continue to be communicated through the campaign, which in the current situation provides an additional sense of destination health and safety.
In addition, 12 special promotional videos were created for each market in the duration of 15 and 30 seconds, which will be used for advertising on online, digital and TV channels. Tourist products and destinations that will be advertised through the campaign are specially adapted to each market, i.e. favorite destinations and attractive tourist products such as sun and sea, eno-gastronomy, nautical, nature, active tourism, camping and cultural offer.
For example, for the German market messages were created related to the sun and the sea, eno-gastronomy and Istria and Kvarner as favorite destinations of Germans, visuals related to Dalmatia and the Makarska Riviera were prepared for the Polish market, the French are invited with an emphasis on our cultural offer, and the British with images of Dubrovnik, Split, Hvar, etc. The dates of the campaign are adjusted to the current epidemiological situation in each market.
Minister of Tourism and Sports Nikolina Brnjac said that Croatia is fully prepared for the start of the tourist season. "Through this campaign, we will present tourists their favorite destinations and tourist products, and campaign is specialized for each individual market. This is a continuation of activities that position Croatia as an attractive, safe and well-prepared tourist destination. We work intensively to ensure optimal safety and health conditions for tourists, but also for our fellow citizens and all stakeholders in the travel chain. The process of vaccinating tourist workers who we expect to be vaccinated by the beginning of summer has intensified, borders for foreign tourists are open, the Safe stay in Croatia project has more and more users every day, we have defined more than 300 points for testing tourists in tourist centers, we co-finance the price of antigen tests for tourists, and we will have special epidemiological data for the islands. We are ready for the season, and additional optimism is provided by the improvement of the epidemiological situation, which we know is crucial for the interest of the guests ", concluded Brnjac.