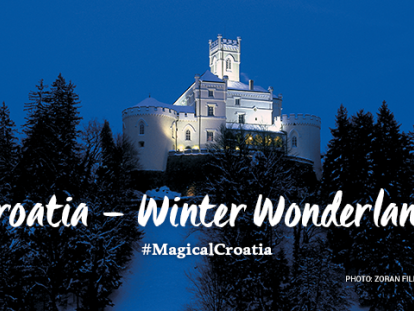 The Croatian National Tourist Board has launched a new promotional winter campaign "Croatia - Winter Wonderland", which will last until January 10th across key markets, i.e. the markets of Germany, Slovenia, Austria, Poland, the Czech Republic, Slovakia, Hungary, Italy, the Netherlands, France, Great Britain, Belgium, Sweden and Norway. The campaign will run on social networks including Facebook, Instagram, Twitter, TikTok and Pinterest using the tags #CroatiaWinterWonderland and #MagicalCroatia. The main goal of the campaign is to maintain the visibility of Croatia and to attract new guests by highlighting the winter beauty of Croatian destinations, but also specific tourist products such as eno-gastronomy, culture, nature and wellness.
"The promotional campaigns we conducted this year have positioned our country as a high-quality, safe and well-prepared destination. That we were very successful in this was confirmed by the European Travel Commission (ETC), which highlighted that the Croatian National Tourist Board was the most active European tourist organization on the portal and social networks Visit Europe during its autumn campaign, and as such, a great example to tourist organizations in other countries. Through to the end of this year, we expect the realization of additional tourist traffic, Croatian destinations have prepared an interesting Advent offer that we will highlight as part of this winter campaign", said the Director of the Croatian National Tourist Board Kristjan Staničić, adding that the campaign will include traditional recipes, customs and traditions, how to make gingerbread hearts as well as the best locations for taking winter photos.
Let's add that as part of this campaign, the #MagicalCroatia label will be adapted to certain destinations that will be included in promotional activities, so the destinations and fans are invited to use tags such as #MagicalZagreb, #MagicalOpatija, #MagicalSplit, etc. Also, as part of the campaign there will be a give-away that will be held in select markets, within which the best winter photos of Croatian destinations and locations will be awarded, as well as the best answers of fans on social networks to prize questions.
In order to achieve the best possible results, as part of the campaign, if epidemiological conditions in the country and in the key markets allow, a trip for international influencers is planned, and they will visit the winter wonderlands on the island of Rab, explore Plitvice Lakes National Park covered in snow, and enjoy the Christmas spirit of Zagreb and Dubrovnik, etc.