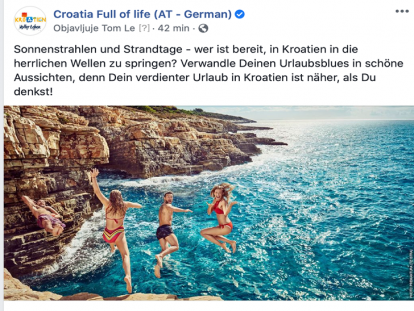 The Croatian National Tourist Board is conducting a large promotional campaign titled "The Vacation You Deserve Is Closer Than You Think" on seven European markets - Slovenia, Austria, Germany, Hungary, the Czech Republic, Slovakia and Poland.
The campaign will be active during June and July, and includes intensive advertising on Facebook and Instagram, advertising on YouTube, ads on some of the most-watched TV channels, most read portals and newspapers in each market and through outdoor advertising on billboards, city lights and digital panels. Promotional materials and ads created for advertising have been adapted to all six language variants and include tourist products that are best accepted in certain markets and are the motive for travel at this time of year, namely, sun and sea, nautical tourism, nature, active tourism via cycling and camping, but also Croatia's cultural offer. As part of the campaign, a new promotional video of 30 and 15 seconds was created, which will be used for advertising on both online and offline channels on these markets.
"The first reactions to the launched campaign are extremely positive and we believe that they will encourage our traditionally loyal guests from the surrounding markets to spend their holidays in our country. Along with the campaign, we have regularly daily communication with numerous partners, tour operators, agents and tourists through our network of Representative Offices, including the latest information on the possibilities of crossing the Croatian border, the readiness of accommodation facilities to receive guests, and epidemiological guidelines on beaches, swimming pools and restaurants. With each new day, optimism is slowly increasing and I believe that in the end our tourist traffic during June, July and August will be much better than we hoped a month ago at the height of the crisis caused by the coronavirus pandemic," said CNTB Director Kristjan Stanicic, noting that when good epidemiological conditions and a positive atmosphere for travel are created, the same campaign will be launched on the markets of Italy, France and the Netherlands.
Markets that are primarily air destinations for Croatian tourism, such as Great Britain, Scandinavia, the US, Canada, China and South Korea, are being targeted through the campaign Enjoy The View From Croatia, in which all stakeholders can participate with their photos and videos.