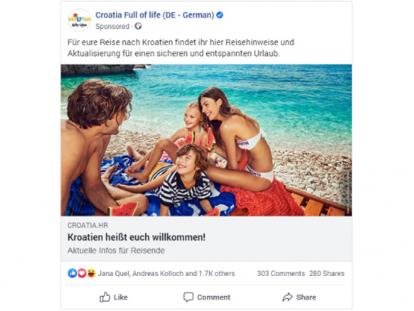 In addition to the promotional campaign "The Vacation You Deserve Is Closer Than You Think", which is still active in key European markets, and was launched in early July in the UK and Italy, the Croatian National Tourist Board is conducting enhanced marketing activities in the markets of Germany, Austria and the UK. These are online campaigns on social networks, Google search engine and placement of native articles on the most read portals with a goal to provide all relevant information for safe arrival and stay of tourists in Croatia, which further positions itself as a safe tourist destination.
"We are carrying out intensified promotional activities until the end of August on the markets of Germany and Austria, given that these are very important markets for Croatian tourism, where Croatia is still on the list of safe countries. This gives us optimism for the further realization of tourist traffic, which in the case of Germany is at a high 90 percent of last year's result for July. The United Kingdom also recently included us on the list of safe countries and which began to reestablish flight routes, where we are perceived as a safe country, and with these activities we want to further strengthen this status. In August, we also expect increased tourist traffic from the Italian market, while we have also decided to keep promotional activities in the Dutch market, given that we are still a sought-after destination among Dutch travel enthusiasts", said Kristjan Stanicic, Director of the Croatian National Tourist Board emphasizing that we expect Croatia to return to the list of safe and stable countries for travel in the Netherlands soon.
That the activities have been well-received is confirmed by the large number of comments on the markets in which many tourists praise Croatia as a tourist destination, announcing their planned arrival, while also providing recommendations to each other, as to what to visit and experience in Croatia. "Since the end of May until today, more than 67 million people have seen our promotional ads, while more than 38 million people have seen the video campaigns on the mentioned markets", emphasized Stanicic and added that Croatia is currently the only country in the Mediterranean that has recorded almost 60 percent of last year's July tourism results this month.