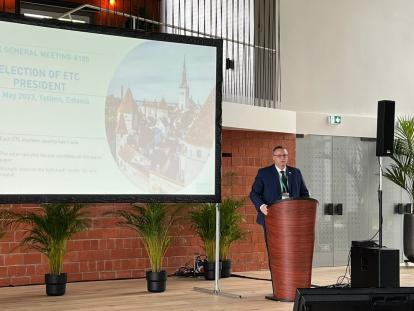 The director of the Croatian National Tourist Board, Kristjan Staničić, was re-elected as vice president of the European Travel Commission (ETC), the most important and oldest international tourist association in Europe, consisting of 35 national European tourist organizations, as well as associated members, including agencies, service providers in tourism, and carriers. These are the key news from the 105th meeting of the ETC General Assembly, i.e. 108th meeting of the ETC Board of Directors, which took place in Tallinn, Estonia, can be found below.

"I thank my colleagues for the trust shown and the opportunity to continue working together on the improvement of the European tourism sector, i.e. the promotion of Europe as a unique tourist destination. Very challenging times are behind us, but we have shown that a quick and stable recovery of tourism can be achieved with quick decisions, targeted promotion and a quality offering. Certain challenges still exist, however, we are witnessing a return to the level of travel from the pre-pandemic period, and as part of ETC's activities, we will do everything to maintain this positive growth trend in the future," said director Staničić.

Along with director Staničić, who was appointed as vice-president of ETC, Miguel Sanz from Spain was elected president of ETC, while Magda Antonioli from Italy was also appointed as vice-president. In addition to the new appointments, and the ETC Annual Report for 2022, membership fees for the period from 2024 to 2027 were discussed at the meetings, and the strategic framework of the ETC until 2030 was approved.

Let's add that on this occasion an Industrial Forum entitled "Climate change mitigation for tourism" was held in Tallinn, where the harmful effects of climate change on tourism were discussed, and the Climate Action Plan of ETC was presented, as part of which a significant reduction is foreseen in emissions generated by the work of this association until 2030. As part of the plan, strong support for engagement in climate actions will be implemented by national tourism organizations of European countries and ETC members.

ETC was founded in 1948 with its headquarters in Brussels, and in addition to national European tourism organizations, it gathers associated members from the private sector like agencies, carriers and other service providers in tourism. The main goal of ETC is the improvement of tourism policies at the level of the European Union and the further promotion of Europe as the world's leading tourist destination. The Croatian National Tourist Board actively participates in the work of ETC through numerous campaigns, withdrawal of funds from EU funds and through cooperation with member states and CNTB representative offices in distant markets.