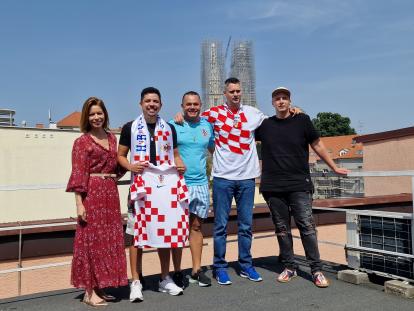 One of the most ardent fans of the Croatian national football team is Francisco Rafael Beserra Sousa, a 30-year-old Brazilian, who is a longtime fan of both Vatreni and Croatia, the latter of which he fell in love with back in 1998 during the World Cup in France. Beserra watched Vatreni live for the first time during the finals of the League of Nations in Rotterdam and his loyalty and love for our country was rewarded by the Croatian National Tourist Board with a three-day stay in Opatija, one of Croatia's most renowned destinations. 
"The invitation of the Croatian National Tourist Board pleasantly surprised me and only further proved how warm and kind Croats are. I am delighted with your fans, and now with Croatia as the country I adore. Thank you all for your sincere hospitality, and I am really looking forward to the new adventures and experiences and most of all to the new people I will meet during my stay in beautiful Croatia" said Beserra.
Beserra will stay in Opatija in the company of his friend David Fonseca Pimentel, with whom he watched the matches with in Rotterdam. The Tourist Board of Opatija was involved in the organization of their stay and will provide the duo with a tour of the city and participation in the popular RetrOpatija as well as other fan related experiences.
The Croatian National Tourist Board comments that "we are glad to have had the opportunity to host Rafael and his friend David. We are convinced that he is a true lover of our country who, with his hard work, loyalty, persistence, and knowledge of Croatia earned this great reward. We're sure that from now on Rafael will talk even more about Croatia, our people and culture, and as such he will be a real promoter of Croatian tourism".