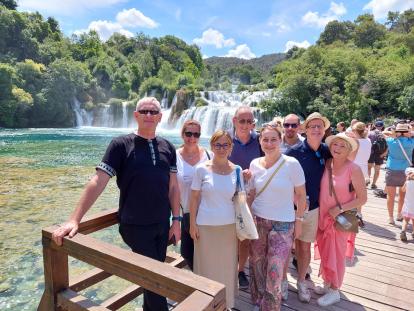 The Croatian National Tourist Board organized a special study trip for seven foreign MICE and business agents from the markets of France, Denmark, Greece and the United Kingdom. Their travel itinerary includes a visit and tour of Split, Krka and Skradin National Park, Šibenik, Vodice, Plitvice Lakes National Park and Zagreb.
"These are agents who were rated as the best MICE agents within the national congress exchange MEETEX 2021, held virtually in March this year. The congress industry is extremely important for Croatian tourism, but also for the entire economy, so we are pleased with the fact that, after a year of holding virtual events, business events are slowly waking up. The best representatives of the MICE industry will be presented our country's congress offer and I believe that we will also use this time to prove to be excellent hosts, who above all care about the safety of our visitors", said CNTB Director Kristjan Staničić.
One of the most significant people involved in this study tour is Rob Davidson, an influential lecturer, writer and consultant in the MICE industry. "For most of us who are participating in this great trip, this is the first visit abroad after a long time. Congratulations to the organizers who showed us beautiful Croatian destinations, ideal for organizing original and high-quality MICE events. Croatia is a wonderful place for a summer vacation, but it is important to remember that MICE visitors bring profit and opportunities for the tourism industry to earn money throughout the year", concluded Davidson.
Let us add that in addition to the aforementioned study group which is in Croatia, two additional groups of MICE agents will be in our country from July 7th. Of these, the first group of five agents from Austria, the Czech Republic, the Netherlands, Italy and France will visit Zagreb, Istria and Kvarner until July 10, while the second group, consisting of three agents from Israel, France and the Netherlands, will visit Zagreb, Dubrovnik and the surrounding Dubrovnik-Neretva County.
A joint meeting of all three groups of agents is planned in Zagreb, and with the Croatian National Tourist Board as the main organizer, support in organizing mentioned study trips was provided by the tourist boards of Split-Dalmatia County, Šibenik-Knin County, Istria County, Kvarner County, city of Split, city of Dubrovnik, city of Opatija and city of Zagreb, as well as the organizers of this year's MEETEX Congress held in March for the third time with the aim of connecting international customers with key stakeholders in the Croatian congress industry. MEETEX has become the leading event of this type in Croatia, during which all the advantages and contents of Croatia as a congress and incentive destination are presented to interested international buyers.